Galeon Lew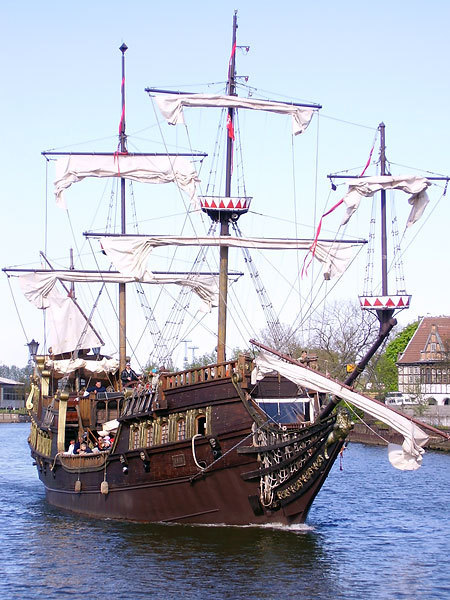 The Galleon Lew looks like a vessel from the XVII century sailing under the Polish banner.
We invite you to go on an attractive cruise through Gdańsk Shipyard, Repair Yard, docks, port, Wisłoujście Fortress , Westerplatte as well as the Bay of Gdańsk
During the cruise a tour guide tells you in Polish, German and English languages about the history and monuments of Gdańsk, the Shipyard and Westerplatte.
The cruises from Gdańsk to Westerplatte are open from April to October from 10:00 o`clock until sunset.
CRUISE PRICING FOR 2023
CRUISE ROUTE

TICKET PRICES FOR INDIVIDUALS

NORMAL

REDUCED

1.

Gdańsk- Westerplatte- Gdańsk

(round-trip ticket)

80 PLN

60 PLN

2.

Gdańsk-Westerplatte or Westerplatte- Gdańsk

(one-way ticket)

60 PLN

45 PLN
One way cruise takes 45 minutes.
We set sail from Gdańsk at 9:00*, 10:00, 11:00, 12:00, 13:00, 14:00, 15:00, 16:00, 17:00, 18:00, 19:00.
*cruise on demand
We set sail from Westerplatte at 11:30, 12:30, 13:30, 14:30, 15:30, 16:30, 17:30, 18:30, 19:30.
The organiser reserves the right to change the time and routes of the cruises
There are numerous surprises waiting for you on board: sea shanties and others, aswell as a well-stocked bar.
On request we organise charter cruises with catering and music. We can visit any port you want within the bay of Gdańsk ( Gdynia, Sopot, Hel, Jastarnia). Other interesting options are special events that can be organised according to your needs ( weddings, anniversaries, company parties, business meetings).